Venue Information (A-Z Guide)
The Saint Louis Music Park is located at the Centene Community Ice Center!
750 Casino Center Dr.
Maryland Heights, MO 63043
For more information about accessibility please contact our box office at 314-298-9944 or hollywoodampstl@livenation.com.
Missouri and Federal Law prohibits the sale of alcoholic beverages to persons under the age of twenty-one (21). Therefore, guests are required to show proper identification and proof of age when purchasing alcoholic beverages at the Saint Louis Music Park. Guests are not permitted to bring any alcoholic beverages onto the property of the Saint Louis Music Park at the Centene Community Ice Center.
Animals or pets of any kind are not permitted into the Saint Louis Music Park except for trained service animals and service animals in training for guests with disabilities. Service animals must be leashed at all times, unless performing a necessary task for their handler which requires the leash be removed. Handlers are responsible for cleaning up after their service animal and for any damages caused by the service animal. A guest whose service animal poses a threat to the safety of other guests and/or employees may be asked to escort the animal off the premises. In order to better accommodate guests with service animals, please notify our Guest Services Department at ccicfrontdesk@spectraxp.com.
Guests will be able to carry the following style and size bag, package, or container at the Saint Louis Music Park:
– Bags that are clear plastic, vinyl or PVC, and are no larger than 12" x 6" x 12"
– One-gallon clear plastic freezer bag (Ziplock or similar)
– Wallets, small clutch bags, with or without a handle or strap and does not exceed 4.5" x 6.5"
– Diaper bags (with child) after inspection
An exception will be made for medically necessary items that cannot fit into a clear bag, after proper inspection.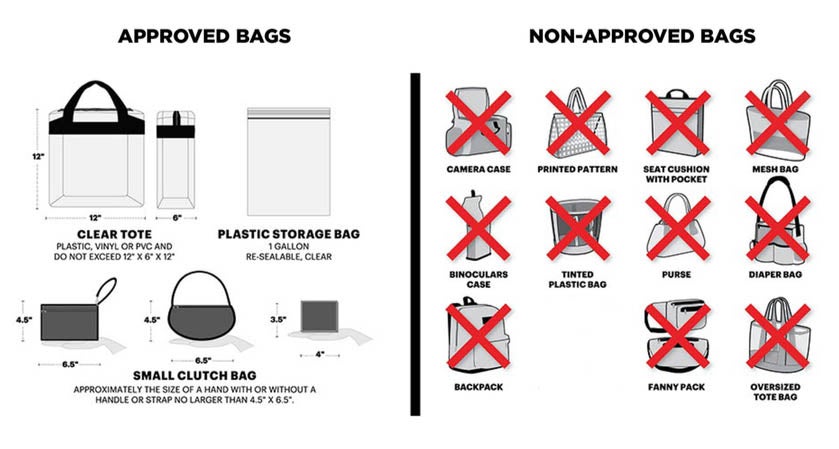 Banners, signs, selfie sticks, and posters will not be allowed inside the Saint Louis Music Park!
The Saint Louis Music Park is a cashless facility. We accept all major credit cards.
Cameras & Recording Devices
For most events, at the request of the artists, small point & shoot cameras are allowed. Professional cameras (specifically cameras with professional/detachable lenses and flash) are not permitted. The Saint Louis Music Park reserves the right to examine and prohibit the use of any camera that conflicts with the policy set by the event. Audio recorders, video recorders and digital cameras with video capabilities are prohibited during all events.
The Saint Louis Music Park has concessions available with a variety of options, along with portable stands with alcohol!
ARRIVE EARLY & STAY LATE at our Bar & Restaurant - 314 Social! Whether you are ready to pregame before the concert, or keep the party going afterwards, 314 Social is open for both!
Doors will open 60 minutes prior to show time.
To inquire about job opportunities, visit our Employment page for an up-to-date listing of available positions.
In order to maintain a safe and enjoyable environment we ask that while visiting the Saint Louis Music Park at Centene Community Ice Center, guests be courteous to those around them and abide by building policies. Guests using foul or abusive language, behaving in an unruly manner or appearing intoxicated are subject to ejection and/or arrest.
A guest service stand will be located at the rear of the box office.
To request an interpreter for this show, please call 314-813-1533. Requests must be placed at least 3 weeks (21 days) before the show date. Interpreters can be placed either in front of the stage on the lower right side or on the terrace.
If you have lost an item, please visit the Guest Service Stand behind the box office during the show. After the show, please call 314-451-2244.
If the tour is offering merchandise, it will be located in the plaza area directly upon entry into the Saint Louis Music Park.
Alcohol

Food and Beverage of any kind

Fireworks or incendiary devices of any kind

Outside chairs

Glass or metal containers

Weapons of any kind (regardless of concealed or carry permit)

Recording devices of any kind - Audio or Visual

Professional cameras. Cameras with detachable lenses. GoPro/Action cameras. Tablets/iPads.

Glow sticks, bracelets, necklaces or any other glow item of any kind

Inflatables

Umbrellas

Backpacks or other large bags

Coolers of any kind

Laser pointers

Tools (wrenches, pliers, etc.)

Pets (except service animals covered under ADA regulations)

Aerosol spray cans

Posters larger than 8.5" x 11"

Musical instruments

Selfie sticks

Spiked jewelry or chains of any type

*Any other items deemed unacceptable by the Saint Louis Music Park staff
Season Tickets at Saint Louis Music Park provide a fantastic way to reward clients and employees, as well as a great way to enjoy a show with friends and family. Click below for more information!
Re-Entry is not permitted at the Saint Louis Music Park. Please ensure that everything you will need for the event is brought in with you. If you do leave at any point in the evening, you will not be allowed back in without a new ticket.
Our main restrooms are located in the Plaza area near the large concession stand.
Scalping or reselling tickets is strictly prohibited on the property of the venue. Any guest caught selling tickets on the property will be turned over to local law enforcement.
The Saint Louis Music Park will have a designated smoking section for events located on the South side of The Plaza area (behind the seats) by Casino Center Drive. Smoking is prohibited in all other areas of the Saint Louis Music Park and Centene Community Ice Center.
Sponsorship Opportunities
For more information about sponsorship opportunities at the Saint Louis Music Park & Centene Community Ice Center email Jenna.Mueller@spectraxp.com or click below for more information!